Terrario, a Terraria rewrite for the calculator
Posté le 10/07/2020 16:05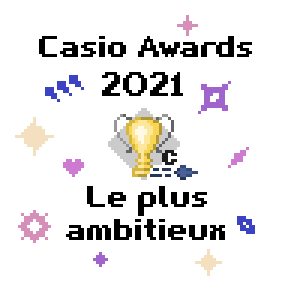 2021 Casio Awards winner, thanks everyone!

Hi. I noticed a while ago there weren't any games like Terraria or Minecraft available for Casio calculators. For the past while I've been working on rewriting Terraria in C for the SH4 calculators using gint. I'm not sure when if ever I'll finish it, since it is a fairly big project, so I've decided to put it here for now.
Here are a few screenshots of the progress so far (some may be out-of-date):
Main menu
Gameplay
Inventory
Crafting
Equipment
A visualisation of a generated world (click for full detail)
The game runs at 30FPS. Worlds are 1000x250 tiles large (640x250 on the 35+E II / GIII).
The control scheme and a crafting guide can be found in the game's About menu.
This forum page is updated regularly with the latest release of the game, as well as a changelog in the comments.
If you aren't sure what an item does, feel free to search it up on the
official Terraria wiki
.
Most recent update:
Jungle and a bunch of content.
Up next:
Who knows?
The attached file contains the latest build of the game, as well as instructions and a screenshot compiling script and map tool.
The source code repository as well as early builds of the game can be found at
this GitHub repo
and
its Gitea mirror
. Obviously, expect bugs in these early builds, though I take care to remove the major ones I find before releasing.
Due to the very large world, the save files for this game are big. Make sure you have at least 450kB of storage space before installing the addin (300kB on Graph 35+E II), and try to keep at least 300kB free afterwards. Tampering with the files in the TERRARIO folder will corrupt the save, so don't do that. The game will warn you if you have low storage space available, so that you can optimise your storage.
NOTE: You must have a Graph 35+ E, Graph 35+E II, fx9860GII, or fx9750GIII model calculator to run this game.

Fichier joint