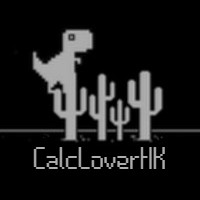 Date d'inscription : 12 novembre 2019
Date de derniere connexion : 16 juillet 2021 10:01
Site Perso : -

Moyenne générale : /10 avec 0 note(s)
Nombre de programmes : 1
Total de téléchargements : 47

Nombre de labels de qualité : 0
Nombre de participations aux concours : 0
Nombre de tests publiés : 5
---
Groupes :
Cet utilisateur n'appartient à aucun groupe.
---
Présentation :

Hi! I am CalcLoverHK, currently a Hong Kong secondary school student that loves to investigate high-end Casio calculators.

You may feel surprised that I came from Hong Kong. In Hong Kong, only fx-3650PII and fx-50FHII are allowed to be used in public exams. I choose fx-50FHII because of its larger bytes than fx-3650PII. Soon, I thought I should look for other great calculators.

It's been a while that I join Planete-Casio to share my thoughts on calculators. I found this forum really active, friendly and interesting. At first, I was thinking of creating account here because I thought my level of programming was quite low. Thanks to this site, I continue to improve my programming skills and find it inspiring.

You may probably know that I'm working on C.Basic Fandom Project. To know more information, please follow "C.Basic Project" thread. I also manage help center of C.Basic in cnCalc.

I don't know French, so I use Google Translate to read the French messages.



Out from the calculator programming, I love watching memes, especially Minecraft. I play Minecraft mainly, too. Sometimes I play .io games (krunker.io is my favourite). Besides these, I watch some channels that discuss many types of conspiracy and theories in YouTube, and there is one channel that I always watch:
https://www.youtube.com/channel/UCMUnInmOkrWN4gof9KlhNmQ
---
Signature :
---